Research data management and Data security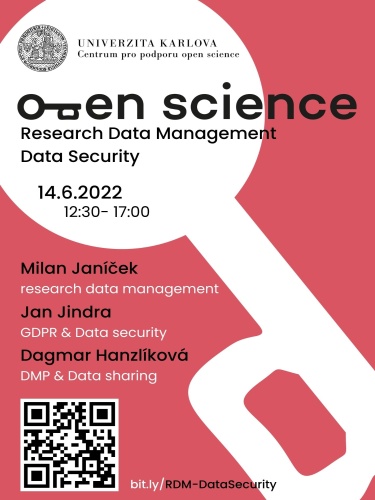 The webinar will focus on working with research data during the whole research process and after its completion. The webinar will introduce basic principles of research data management and the main areas that should be addressed when working with research data. You will learn what it means that data are FAIR (Findable, Accessible, Interoperable and Reusable), what a Data Management Plan is and how to prepare one. We will also cover personal data protection and data security in more detail. Finally, we will discuss research data sharing and funders' expectations and requirements.
Programme:
Research Data Management – Milan Janíček (60 min)
Personal data protection and data security – Jan Jindra (90 min)
Data management plan – Dagmar Hanzlíková (30 min)
Data sharing – Dagmar Hanzlíková (60 min)
Capacity is limuted, register via link or QR code.